Feel closer over any distance.
Bend space & time with

P A R T I C L E




A magical pillow that takes 'the distance' out of long-distance.
Particle

is a magical sphere that translates your squeezes, strokes, pokes, and nudges into delightfully immersive touch sensations that your partner can feel, accompanied by light & warmth.
Share light.



Tap the top to send unique patterns of light & touch – illuminate your partner's

Particle

when you're thinking of them!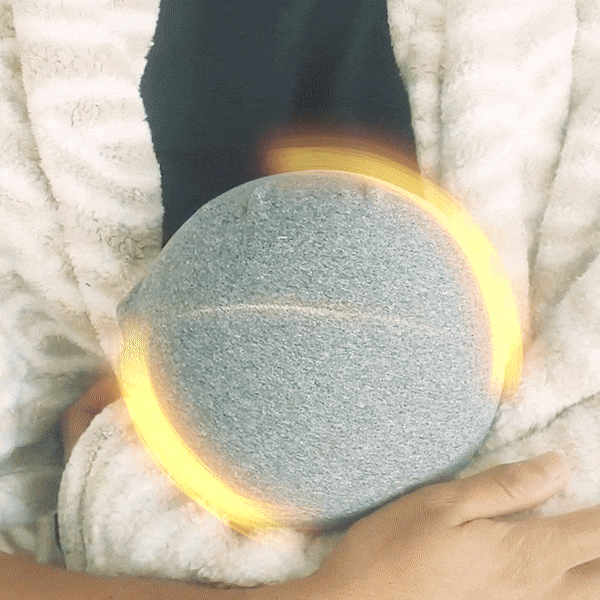 Share hugs.



Squeeze

Particle

to send a deep, soothing vibration to your loved one. Particle

glows with light & warmth whenever you send or receive a hug.
Share warmth.





Particle

fills with warmth whenever you send or receive touch – an immersive heat pad wraps around the entire sphere, keeping you cozy.
Pair

Particle

with the

Tangible App

to share physical touch in video calls, and enjoy new ways to feel cozy over distance.
Draw doodles & feel them come to life.



Based on where you draw, your loved one will feel a smooth, relaxing vibration move throughout their

Particle

.
Turn on the fireplace.
Tap the fireplace to activate

Particle

's heat pad, and share a warm & cozy ambiance together over distance.
A magical shared space, connected 24/7.


Discover thoughtful features that let you feel
cozy & present over any distance.
Record & share touch messages

, even when you're not on a video call.

Send hearts, pop bubbles, and blow confetti

– all of which come to life through touch!

Double-tap the screen to nudge your loved one

with a gentle vibration!

Distance takes away our ability to enjoy the meaningful everyday interactions that make being in-person so magical – the warm embrace, the touch on the shoulder, the playful poke, the gentle arm squeeze.
Particle

recaptures this lost magic and brings it back to your relationship, in a delightfully cozy way that adds new dimensions to how you share love over distance.
⭐⭐⭐⭐⭐





"Long-distance makes me feel like our relationship is on pause, and Particle is a way for me to press 'play' again. "





- Juliet, 23
Each order includes two Particle pillows

, which can be shipped together or separately.
8" diameter sphere (1 lb), custom-molded out of luxurious Snugglefoam™
Instant, automagical Bluetooth pairing
Wrapped in a luxe, double brushed jersey knit – ultra-soft & hypoallergenic
Particle combines warmth, light, and touch to create delightfully immersive sensations
App is available for both Android & iOS
How many Tangible pillows are included?

2 – One pillow for you, and one pillow for a loved one!

Can we ship to two different addresses?

Yes! We can ship pillows together (one address) or separately (two addresses). Free worldwide shipping to most countries.

Do you support both iOS & Android?

Yes! Our app is available for both platforms.

Does Tangible work over any distance?

Yes, as long as there is a cellular signal or Wi-Fi connection.

What do the touch sensations feel like?

Tangible uses a combination of warmth, compression (the pillow is weighted), and soothing vibrations to create comforting, immersive sensations throughout your upper body – thoughtfully designed to elicit the same oxytocin (the "love hormone") response that real-life hugs generate. Tangible can also recreate specific, delightful feelings – like the sensation of popcorn popping, or a relaxing massage.
Compelled by painful personal
experiences
of distance separation, we founded Tangible to help anyone who is craving the physical coziness and magical spontaneity of being in-person with a special loved one in their life.